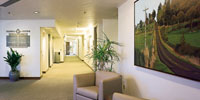 Thomas L. Karsten, Jr.
Executive Vice President
Thomas Karsten has for the last twenty-three years focused his work in the areas of real estate asset management, workout of problem loans and properties, and construction management. Mr. Karsten currently has asset management responsibility for MKG's Arizona and Oregon properties, as well as overall responsibility of MKG's development activities. He is particularly experienced in the management and leasing of office projects. Prior to joining with Mr. Morrison in founding MKG, he served as a Vice President of Karsten Realty Advisors, where he was responsible for managing major under-performing properties requiring substantial leasing and remedial construction work. Earlier he served as an Assistant Project Manager at Tishman Construction of California where he was involved in construction management of large-scale office developments. Mr. Karsten graduated from the University of California at Berkeley with a Bachelor of Science degree in Political Economics of Natural Resources.